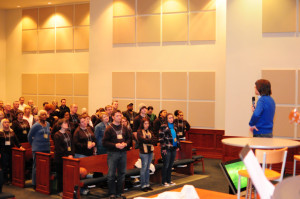 In 2011 Regi left the comforts of home; pews filled with friends, family and worshippers from all walks of life, to begin leading worship weekends in churches all across the country. These events are really more about talking through worship and how to live it out. It's about reconnecting and learning to hear God's voice. It's really less about music and more about the experience of worship.
Every worship ministry needs a time of reflecting and recharging. A Worship Weekend with Regi Stone provides just that. It is a tremendous gift for any worship leader, his team, and his church.
– Jason Easley, Worship Pastor, Highland Baptist Church
---
Sample Schedule
Although these weekends will look a little different from church to church, the following is a sample of what a recent event included:
—Friday – Casual meal and fellowship followed by a time of devotion, worship and prayer.
Friday evening's purpose is to lay a foundation for the entire weekend. This allows a casual atmosphere in which we fellowship, discuss thoughts on worship and spend time worshipping and praying together. Many churches feel this is one of the most important times of the weekend.
Saturday – Coffee and fellowship followed by devotion, rehearsal and prayer.
Saturday's purpose is to rehearse the music that will be used during Sunday services. The music is chosen a couple months prior to the worship weekend by Regi and the worship leader/music director. The band, choir and/or praise team will all join together to rehearse the music and discuss, "what are you bringing to the stage?" This is an important question that is discussed throughout the entire weekend. We close Saturday rehearsal with a time of prayer.
Sunday: Worship with the entire worship department.
Every church chooses this day differently so there are many options when planning. When a church has an evening service, Regi will often lead worship in the morning and then follow it up with an evening worship celebration featuring the entire worship team/choir. This day can be customized to meet your specific needs.
If you'd like more information about what a Worship Weekend is, or are interested in booking one for your church music ministry, please contact us via the form below:
---
From previous Worship Weekends: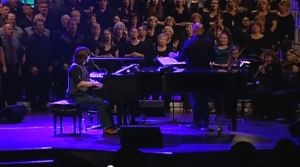 Regi's abilities as a worship leader transcend any barrier of style or denomination. What comes through is an anointed, authentic worship experience that is relevant to any group. No matter what your size or set-up is, Regi's ability as a worship leader, songwriter, and worship teacher will touch hearts and bring your church closer to God.
I've hosted Regi at three very different churches and each time the congregation and worship ministry were ushered into the presence of The Lord in a mighty way; affecting worship in our church weeks after he'd gone.
If you are serious about taking your ministry to a deeper understanding and appreciation of worship, Regi Stone is a fantastic resource for you.– Andy Johnson, Worship Pastor, Spring Baptist Church
You can quote me on this: "I believe there's not a single worshipper regardless of age or style preference that Regi cannot connect with in a meaningful way." – Mark Celoria, Worship Pastor, Hunter's Glen Baptist Church, Plano, TX
One of the best investments you can make for the worship life of your church is to invite Regi for a Worship Weekend. His excellent spirit, musicianship and the overflow of God in his life will leave your church refreshed and revived. – Jason Cross, Worship Pastor, Mount Pisgah UMC
Our worship department was in a place where a time was needed to get close with God, reconnect to Him, worship Him, and hear His voice. The decision was made to invite Regi Stone to come for a weekend and pour into the lives of the teams in the department. Because his worship and personality are authentic and genuine, he was able to powerfully connect both musically and spiritually. Regi formed relationships, shared his life, shared his music and helped us all to grow to a new level. The weekend culminated with Sunday morning worship services where the entire congregation was able to experience God in a fresh and deep way. Regi Stone has now become a friend of Trinity Assembly of God. – C. Brian Biondo, Worship & Fine Arts Pastor, Trinity Assembly of God, Baltimore MD